Hey everyone.

So, Amelia (you may know her around here as justinfinite) and I decided that it would be really awesome to put together a quilt for Saves the Day.

I've done a quilt for a band before, last summer, and it actually went really well. How it worked was I made the squares, sent them to the people participating, they wrote/sewed/stenciled what they wanted on them, sent them back, and I put it together. This time Amelia and I will be working as a team.

So, what we would like to know is who would be interested in helping out. You don't have to be artistic, you just have to love Saves the Day and promise to REALLY SEND THE SQUARE BACK. Please. This is very very preliminary, we just want and idea of how many people would be interested, so please leave us your email in a comment if you want to help, or know someone who would like to help.

We're hoping there will be another tour sometime after Warped Tour for delivery, but once again, this is preliminary so we'll figure out details as we get to them.

I have some pictures from the other quilt project I did under the cut if you'd like to see an example. Feel free to comment with any questions you may have as well.



The quilt was made with a livejournal community I'm in for Fall Out Boy. Love them or hate them, they've been a big part of my life for a long time, very much like Saves the Day has.

this is the quilt:




I gave it to them when they came here in October, and soon after, I found a picture of Pete (bass) lying on it on his buzznet, and a picture of Mike from The Academy Is... with it on the Fueled by Ramen buzznet. So I think this kind of gift is appreciated.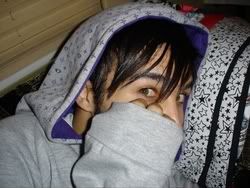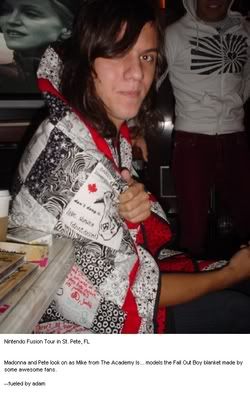 Thanks guys. ♥